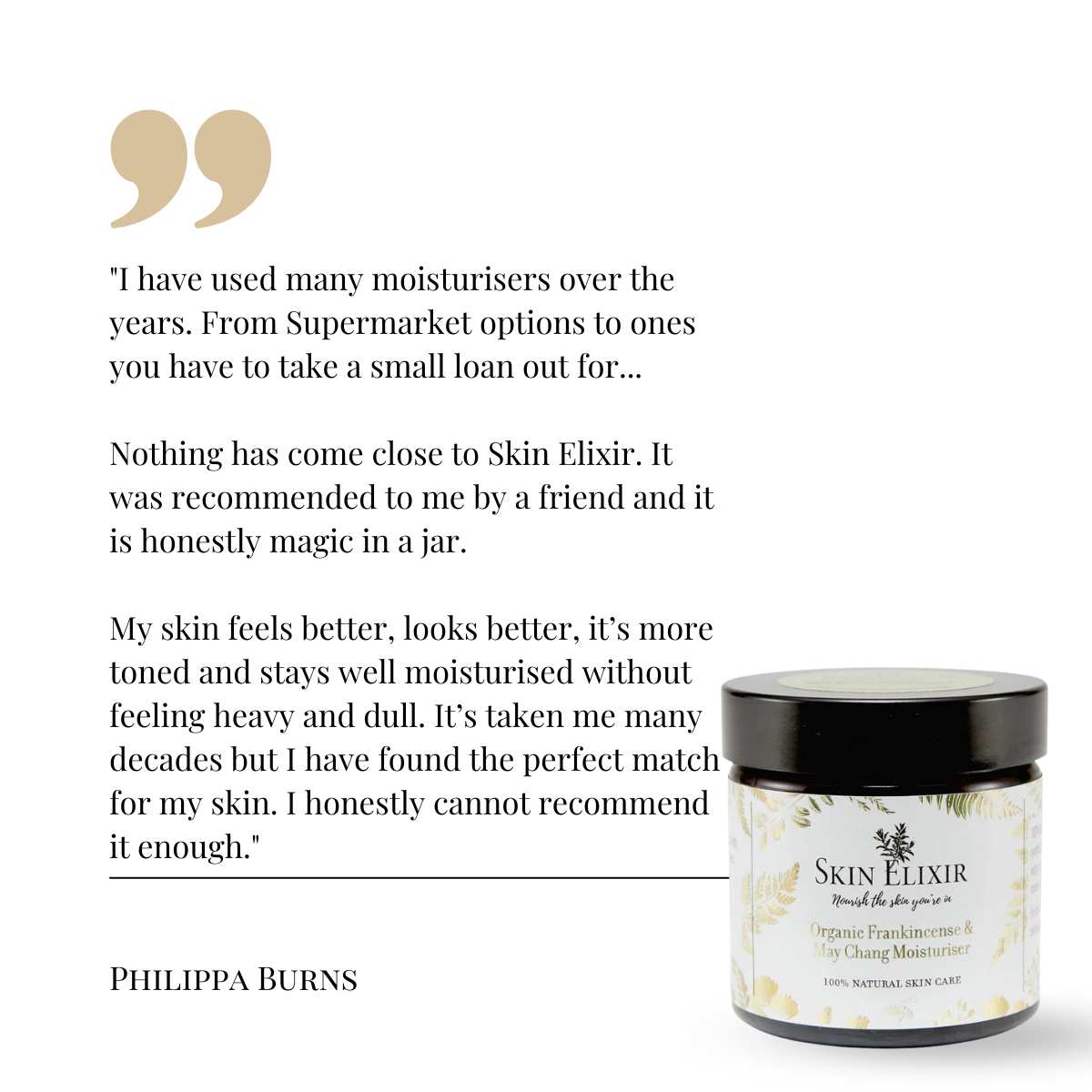 Organic Frankincense & May Chang Moisturiser 60ml
Problems checking out? Please ring me on 07933891885.
A deeply moisturising and balancing day cream that provides long-lasting nourishment and glow.
Key Facts
Benefit: Soothes, smoothes and nourishes the skin leaving it with a healthy glow.
Texture: Rich, balmy and super absorbent.
Skin type: All skin types, especially dry and combination skin.
Key active ingredient: Frankincense and May Chang.
Vegan, cruelty free, organic, waterless formulas, 100% natural.
Details
Experience the enchantment of 'magic in a jar' with our luxurious 100% natural face cream. Meticulously hand-blended with care, this nutrient-rich moisturiser delivers deep moisture, balances and nourishes the skin, while its delicate and sensuous scent brings a serene calm to the senses.
Crafted from only the finest, organic essential oils of Frankincense and May Chang, this precious blend is gently balanced in a base of certified organic raw unrefined Shea Butter, organic Sweet Almond oil, and unrefined virgin Black Seed Oil. The result is a unique, rich, divinely-fragrance, and creamy balm, overflowing with skin-healing nutrients and naturally-occurring vitamin E.
Indulge in the luxurious texture of this magnificent skin drink, as it quickly and effortlessly absorbs into the skin without leaving a greasy or cakey residue. One jar of this sublime cream offers superb value, as a little truly does go a long way. So, treat yourself to the ultimate skin-care experience and luxuriate in the nourishing embrace of our magical face cream.
Results
Deep skin nourishment

Softens & plumps

Brightens & illuminates skin

Makes skin glow

Soothes & smooths

Reduces fine lines and wrinkles

Evens skin tone

Cures dry skin instantly

Heals blemishes and acne

Balances out the complexion
Star Active Ingredients
Frankincense (Boswellia serrata) oil is known as the 'king' of oils. It increases circulation which can be effective in the promotion of healthy, dewy, glowing skin and complexion. The healthy cell-regeneration promoted by Frankincense can also help with the appearance of scars, spots, acne, eczema, psoriasis and with the overall balancing of skin tone. It can help restore elasticity to the skin whilst minimising wrinkles. It also is known for its ability to calm emotions and to increase clarity of thinking. 
May Chang (Litsea Cubeba) is known to possess antifungal, antimicrobial and anti-inflammatory properties. It is known to control the secretion of sebum, making it excellent for skin that flares-up or that has an over-production of oil. Scientific studies have demonstrated Litsea Cubeba is effective at controlling arrhythmia, a common sign of anxiety and stress - and so has a natural uplifting effect on the mind. 
How To Use
Apply a small amount morning and (more at) night to the neck and face using upward circular massaging motions. Allow sufficient time for the cream to fully absorb before applying make-up. 
Pro tip: if your skin is in need of extra nourishment, use this cream as a makeup remover at night. Glide a small amount on and use cotton cloth to gently remove impurities and dirt.
Daily Ritual
Pair the day cream  with Super Natural Oil with 2% Bakuchiol to rejuvenate your complexion and diminish the appearance of fine lines in the morning. Complete your daily routine with Intensive Night Cream as a nutrient-rich alternative for the night.
Storage Tip
Keep out of direct sunlight, store in ambient temperature.
Full Ingredient List
Organic Prunus dulcis (Sweet Almond) Oil, Organic Butyrospermum Parki, (Shea) Butter, Cold pressed virgin Nigella sativa (Black Seed) Oil, Organic Boswellia serrata (Frankincense) Oil, Organic Litsea cubeba (May chang) Fruit Oil essential oil*, Tochopherol (Vitamin E) Limonene**; Geranoil**; Citral**; Linalool**; Citronellol** Naturally occurring in essential oils** Safety tested, 12 month shelf life.
Free UK 1st Class Postage on orders £25 & over.
Orders are normally posted out on the same day if placed between Monday to Friday.
Products can be track and traced on request.
UK Only Shipping: arrival normally within 1-2 working days
If in the event that you are not satisfied with Skin Elixir products, returns are possible up to 30 days after purchase. Because it concerns skincare, the product cannot be returned after use. If you want to return the received product, you can contact me shona@skinelixir.co.uk
Postage
Free UK 1st Class Postage on orders £25 & over.
Orders are normally posted out on the same day if placed between Monday to Friday.
Products can be track and traced on request.
UK Only Shipping: arrival normally within 1-2 working days
Returns
If in the event that you are not satisfied with Skin Elixir products, returns are possible up to 30 days after purchase. Because it concerns skincare, the product cannot be returned after use. If you want to return the received product, you can contact me shona@skinelixir.co.uk
Organic Frankincense & May Chang Moisturiser 60ml